We have successfully served our clients – both SMEs and international enterprises from many different industries – for more than 25 years.
From logo development to spatial concepts, we support all kinds of design-related assignments.
As a team, we develop a communicative and creative all-round package – tailored to the individual needs of our clients.
As an owner-run agency, we attach importance to personal service and are at our client's service at all times.
This means we have developed trusting, long-term relationships with many of our clients.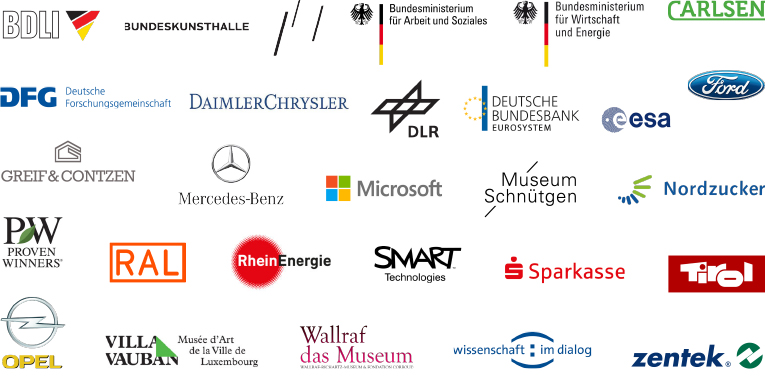 Some Clients we work for:
Abraxas Systemberatung | Adunic | AG Gestaltete Umwelt | Allit | Alpenstille | Artebene | ASA Institut | ASA Data Systems | Atelier Markgraph | Balloni Dekorationen | Baumhaus Verlag | Biotherm | Biodentis | Biskon Yapi, Türkei | BKK | Bluelemon | Blue Wings | Börsenverein des Deutschen Buchhandels | Brandit | Brands and Trade Services | Bülow | BDLI Bundesverband der Deutschen Luft- und Raumfahrtindustrie | BMAS Bundesministerium für Arbeit und Soziales | BMWi Bundesministerium für Wirtschaft und Energie | Bundesamt für Naturschutz | BVI | Carlsen Verlag | Casino Container | Christo Uwe Schurr | Communicate | Contempo Consulting | Cultivaris | Daimler-Chrysler | DBU Deutsche Bundesstiftung Umwelt | Design Institut | Designwerkstatt Haus Aussel | Deutsche Bundesbank | Deutscher Archäologen Verband | Deutsches Museum | DFG Deutsche Forschungsgemeinschaft | digitalequipment | Dinger's Gartencenter Köln | DLR Deutsches Zentrum für Luft- und Raumfahrt | DOK Centrum Delft, Niederlande | ECM | Edenmarket | EKOM Sanitärmarketing | Emscher Genossenschaft Lippe Verband | Erdmann Design, Brugg, Schweiz | ESA European Space Agency, France | Experimenta Das Science Center | facts and fiction | Fraunhofer Gesellschaft IAO | Filmstiftung NRW | Follow Me | Ford | Foundation Human Nature | Freiraum | GAG | Gartenbau Botz | GPP German Property Partners | Gerling Versicherungen | Goldig | Greif & Contzen | GUM | Hamburg Messe und Congress | Heidelberger Druckmaschinen | Hering Bau Produkttechnik | Hightech Optik van der Ecken | Hoffmann | IDS Leibniz Institut | IGC, Australia | Illbruck | INQA Initiative Neue Qualität der Arbeit | Kaufhof Warenhaus | KIM | Kientzler Jungpflanzen | Klein | Koelnmesse | Kogag – Bremshey & Domning | Konzept und Design Köln | Kölnischer Kunstverein | KPMG | Kunst- und Ausstellungshalle der Bundesrepublik Deutschland | Laverda | Lichtschläger Optik | Lohmann Consulting | Lunas | Masterpixel, Österreich | mavidesign | Meyer Sound | media in motion | Mercedes-Benz | Micro Care | Microsoft | M.I.T. | Moderne Stadt | Monaco Inter Expo | Monoleasa | Moses Verlag | MP-Computer | MUNLV Ministerium für Umwelt u. Naturschutz, Landwirtsch. u. Verbraucherschutz des Landes NRW | Museum Schnütgen | Naumann und Göbel Verlag | MPO | NeMa | NewDocs | Next | Nordzucker | Erlebniswelt Nürburgring | Oberländer Optik | Oetinger Verlagsgruppe | On Air Production | Opel | Parfum Point Marketing | Phonecare | PLA, USA | Position 24 | Proven Winners Europe, Great Britain | Pupille Optik | Qualitätsmanagement Michels-Klein | RAL Deutsches Institut für Gütesicherung und Kennzeichnung | Rempen & Partner | RheinEnergie | MS Radio Marketing Service | Roberto Design International | RWE-Meteorit | Schallhandel | Schlumberger | Schokoladenmuseum Köln | Schulen ans Netz | SEB Bank | Smart Technologies Kanada | Sparkassen Finanzgruppe | Sparkasse Leverkusen | Stadtwerke Troisdorf | Take Part | Taxi Server | Telekom | Thienemann-Esslinger Verlag | Therapiezentrum Köln- Lindenthal | Ticoplant, Costa Rica | Tirolwerbung, Österreich | Tomy Badurina Fotografie | TraceCare | Trocellen | Trustsec IT-Solutions | Uniplan | VCI | VEMAG Verlags- und Medien AG | Villa Vauban – Les 2 Musées de la Ville de Luxembourg | Visteon | Vobis | Vok Dams | Wallraf-Richartz-Museum | W.I.S. Holding | Wissenschaft im Dialog | Xerox | Zentek

Prices we gained for our projects:
2022 Exhibitor Magazine's World Expo Award | 2022 2A Magazine Award | 2022 BIE Award | 2022 ADC Award | 2022 red dot design award | 2017 FAMAB Award Bronze | 2017 B.I.E Award Bronze | 2017 German Design Award | 2017 Galaxy Award Bronze | 2012 EXPO Exhibitor Magazine's Expo Award | 2012 Gold Award Expo | 2012 Galaxy Award Gold | 2012 EuBEA Gold | 2012 EVA Bronze | 2012 Expo Korea awards | 2012 BoB Award Bronze | 2012 Golden Award of Montreaux Finalist | 2012 Designpreis Deutschland Nominierung | 2011 EX Award Gold | 2011 if communication Award | 2011 Gala Award Nominierung | 2011 Award of Montreux Nominierung | 2010 Galaxy Award Gold | 2010 Adam Award Bronze, Kategorie XL für den Space Pavillon auf der ILA, Berlin | 2010 Designpreis Deutschland Nominierung | 2008 iF design Award, Kategorie "Messeauftritte/Ausstellungen" für eine Bionik-Ausstellung für Kinder im Auftrag von Atelier Markgraph | 2008 Designpreis Deutschland Nominierung | 2007 Designpreis Deutschland Nominierung | 2007 red dot design award Bereich product design Sparte Audio | 2006 Green Panther Gold | 2001 1. Preis EVA und 3. Preis ADAM für lab 01, Daimler-Chrysler | 1999 Nachlux; 2. Preis für die Kinderleuchte Turnus; Internationale Möbelmesse, Köln | 1998 Lucky Strike Junior Award; 1. Preis für den Kinderwagen Gecko | 1997 BauNetz Architektur-Internet-Preis; Auszeichnung für die "virtual design exhibition"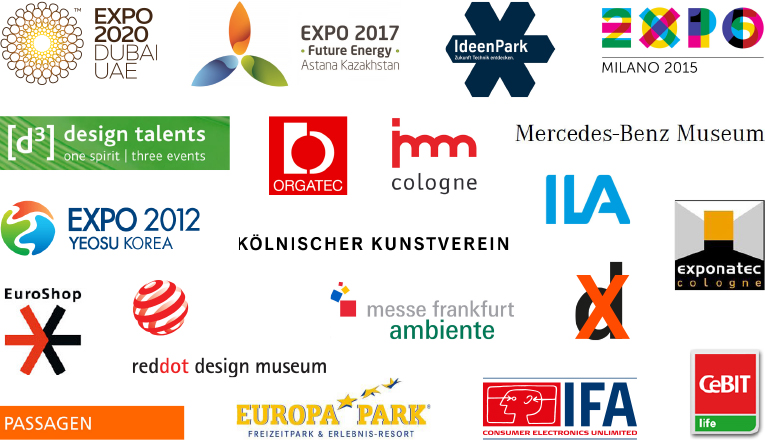 Exhibitions where we presented ourselves:
2022 Pavillon Deutschland – Expo 2020, Dubai, Vereinigte Arabische Emirate | 2022 Pavillon Monaco – Expo 2020, Dubai, Vereinigte Arabische Emirate | 2017 Pavillon Aserbaidschan – Expo 2017, Astana, Kasachstan | 2017 Pavillon Frankreich / Total – Expo 2017, Astana, Kasachstan | 2015 Pavillon Monaco – Expo 2015, Mailand, Italien | 2015 Pavillon Kasachstan – Expo 2015, Mailand, Italien | 2014 Orgatec, Köln | 2014 EuroShop, Düsseldorf | 2013 IFA Internationale Funkausstellung, Berlin | 2013 INDEX International Design Exhibition United Arab Emirates | 2013 CeBIT, Hannover | 2013 Exponatec Cologne – Messe Köln | 2012 Deutscher Pavillon – Expo Korea 2012, Yeosu, Korea | 2012 The Big 5 International Building & Construction Show | 2012 IFA Internationale Funkausstellung, Berlin | 2012 Orgatec, Köln | 2011 Exponatec Cologne – Messe Köln | 2011 EuroShop, Düsseldorf | 2010 Space Pavillon auf der ILA, Berlin | 2009 Exponatec Cologne – Messe Köln | 2008 Orgatec, Köln | 2008 Luxury please, Wien | 2008 IdeenPark – Messe Stuttgart | 2008 Lobby & Lounge – Genf, Schweiz | 2008 EuroShop – Internationale Messe, Düsseldorf | 2008 WoonIdee NL – Utrecht, Niederlande | 2008 Brisa sonic lounge – Ausgestaltung Loungebereich; Ambiente, Frankfurt | 2007 Science Days – Europa-Park Rust | 2007 We go sonic chair – Einzelausstellung; Walking Chair Design Gallery, Wien | 2007 Sonderausstellung red dot designaward; red dot design museum, Essen | 2007 NeckarPark-Fest – Mercedes-Benz Museum, Stuttgart | 2007 Rheindesign Festival – The Spirit of Blue Note; Spichernhöfe, Köln | 2007 [d3] design talents; imm – Internationale Möbelmesse, Köln | 2007 Città di Bologna Showroom; Passagen zur imm – Internationale Möbelmesse, Köln | 2005 anders als immer – Zeitgenössisches Design und die Macht des Gewohnten; internationale Tourneeausstellung des Instituts für Auslandsbeziehungen e.V. in Kooperation mit den örtlichen Goetheinstituten; Eröffnung: The Townhouse Gallery, Kairo, Ägypten | 2004 (1998-2004) bewusst, einfach – Das Entstehen einer alternativen Produktkultur; internationale Wanderausstellung des Instituts für Auslandsbeziehungen e.V.; Eröffnung: Vitra-Museum, Weil am Rhein; Stationen: Brasilien, Chile, Venezuela, Mexiko, Argentinien, Australien, Japan, Singapur, Indonesien, Israel | 2001 Guestroom; Beitrag zu Gemeinschaftsausstellung; Passagen zur Internationalen Möbelmesse, Köln | 2001 Design der 90er Jahre in Deutschland; Präsentation unseres Ausstellungsteil aus der 4:3 Ausstellung; Museum für Kunst und Gewerbe, Hamburg | 2000 4:3 – 50 Jahre Deutsches und Italienisches Design; "Moving Islands" und "Design der 90er Jahre in Deutschland"; Kunst- und Ausstellungshalle der Bundesrepublik Deutschland, Bonn | 2000 10 Jahre Designförderung durch die Raymond Loewy Foundation; Agenturpräsentation auf der Ausstellung; Museum für Kunst und Gewerbe, Hamburg | 1999 Nachlux, Internationale Möbelmesse, Köln | 1998 Kinderwagen Gecko | 1998 Eigentlich könnte alles auch anders sein; Teilbereich innerhalb der Ausstellung von Peter Zimmermann; Kölnischer Kunstverein, Köln | 1997 Designforum: Design interaktiver Produkte; Vortrag "3d-Produktpräsentation – online (VRML)" und Agenturpräsentation innerhalb der Ausstellung; Haus der Wirtschaft, Stuttgart | 1997 documenta X, Kassel; Sparkassen-Café als Künstler und Journalisten-Treffpunkt zur Kunstausstellung | 1997 BauNetz Architektur-Internet-Preis; Auszeichnung für die "virtual design exhibition" | 1996 Medienforum, Köln; Präsentation Digitales Radio | 1996 Entwürfe für das dritte Jahrtausend; Jahresstipendium und Vortrag auf abschließender Konferenz der Hochschule für Gestaltung Ulm; Bearbeitung des Themas "Gestaltung virtueller Welten" | 1995 Sonderausstellung Kindermöbel; Präsentation Kindermöbel Dolittle; Raum Objekte, Stuttgart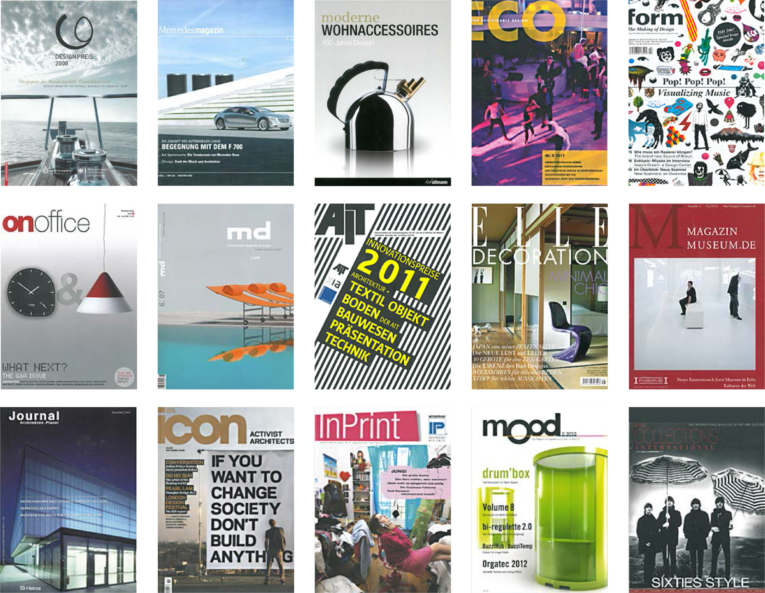 Pressreleases about us:
Books: Moderne Wohnaccessoires – h. f. ullmann | Designpreis der Bundesrepublik Deutschland 2008 – Birkhäuser | Toys for girls – fusion publishing | red dot design yearbook 2007/2008 | Design Inspiration 2007 – fusion publishing | 20 qm: Möbel für kleine Räume – Callwey Verlag | 4:3 Fünfzig Jahre italienisches und deutsches Design – Kunst- und Ausstellungshalle der Bundesrepublik Deutschland | Anders als immer – Zeitgenössisches Design und die Macht des Gewohnten | Annual Multimedia Jahrbuch – Metropolitan Verlag | Archive des Alltags, Heft 3 – Schack Verlag | bewußt, einfach: Das Entstehen einer alternativen Produktkultur – ifa Institut für Auslandsbeziehungen | Café Bar Bistro: Design und Gastlichkeit – Verlagsanstalt Alexander Koch | Design Calendar – Dumont Verlag | Innovation Handwerk: Zeitgenössisches deutsches Kunsthandwerk, 6. Triennale | Köln Design Handbuch 001 – Emons Verlag | Messedesign Jahrbuch – avedition | The International Design Yearbook – Bangert Verlag
Journals (choice): Abitare | About | AIT Zeitschrift für Architektur, Innenausbau, Technischer Ausbau | Allegra | Americaeconomia, Mexiko, Buenos Aires… | Arch, China | Architektur Exclusive Lifestyle 2012 | Art Aurea | Art Position | Audi Magazin | Baby Collezioni | baby wereld | Bild | BIZZ magazine | BusinessWeek | Casa Deco | casamia | collections international | DAB-Report | Der Bauherr | Design News Japan | design report | design vox | dds, das magazin für möbel und ausbau | Diseño Interior | edison | Elle | Elle Decoration | Euwid Magazin | FAZ Frankfurter Allgemeine Zeitung | financial times | form Zeitschrift für Gestaltung | GermanwingsMag | Glamour | Glamour, Griechenland | Hamburger Morgenpost | High Light | Hochparterre | Horizont | H.O.M.E. | Hotel&Technik | icon | In Magazine, Slovenien | InStyle, Ukraine | Interior Digest, Russland | Interni, Russland | Kölner Stadt-Anzeiger | Küchenhandel | Männer Vogue | Magazine Café, Schweden | magazinmuseum.de | Marie Claire, Italien | md möbel interior design | Mensch & Büro | Mercedes Magazin | Mondo Möbel Kultur | Neue Presse Hannover | Nursery Today | onoffice | Page | PIG, Italien | prestige design | prima maison, Frankreich | Prinz | Private Wohnträume | Public, Das GALORE Kulturjournal | Sing Tao Daily Property, China | smart homes | Spiegel | Stern | Trend & Style | Volkswagen Magazin | Wiener | wired | Wirtschaftswoche Spezial: Design | Wohn!Design | Woman | Xcentric
TV/Film (choice): Tagesschau – Special Feature Möbelmesse Köln, Sonderbeitrag sonic chair (15.01.07) | Deutsche Welle – Euromaxx, ausführliche Unternehmensdarstellung designatics mit Produkt Feature sonic chair (Januar 2007)